Adam
20 x 30"
Watercolor on D'Arches CP
My son and I were at a family gathering. He was sitting across from me at an evening dinner. I snapped this shot of him just cuz. When I looked at the photo later it just said "paint me." So I did. A complete stranger loved it and bought it. I thought it was odd but was very flattered that not only did they love my son's appearance but also enjoyed the loose quality of the work.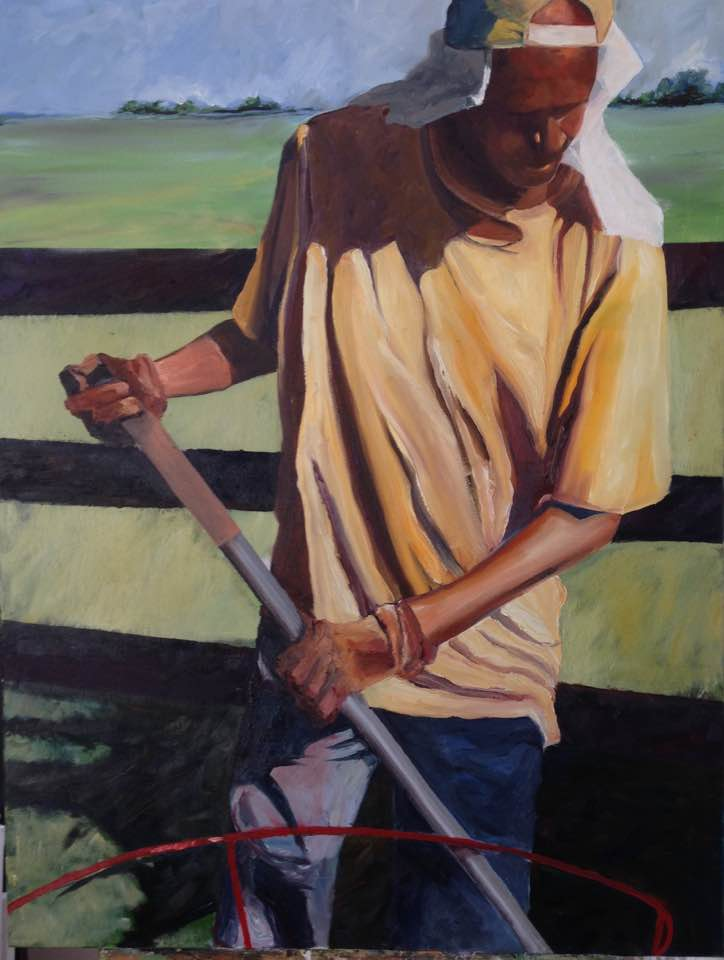 Lady in Waiting
Mixed media with Silver foil enhancements
Study for Arkansas Supreme Court Justice - Annabelle Imber Tuck
Graphite on Surfaced Hard Board
30 x 40"
"Bob, I am retiring from the Court. Do you think you could do my official portrait to hang in the Justice Building." My mouth was dry and I could not reply, so I shook my head to the affirmative. Upon regaining my composure, I asked why me? She said she appreciated my style of representation and didn't want the typical portrait. So, go figure, one of my portraits hangs in the Justice Building in Little Rock, Arkansas into perpetuity.
Junior
Oils on canvas
24" x 24"
$1000
Junior is anything but junior. At 71 Junior is the "go to guy" when something absolutely has to be done, without fail. Quick with a yassir and a smile, Junior knows his worth but maintains his modesty and humility. "Sir, I don't think, you knows you dah the thinking and I duz the doin',."
Junior called me Misser Bob. Best toothless ever!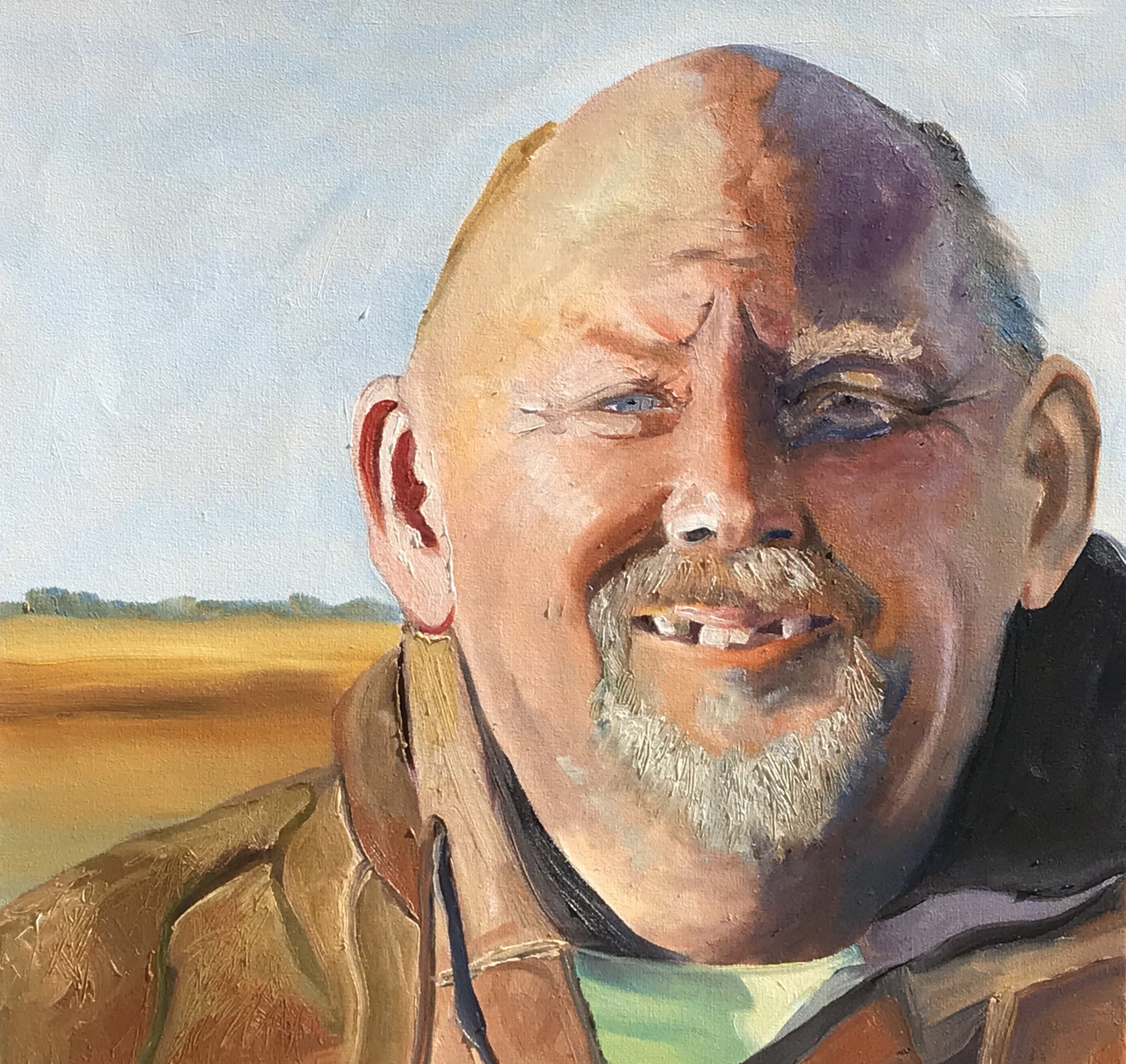 The New Outsider
Oils on Canvas
24 x 24"
$1000
A forgotten. 4 years clean from meth. He was hired as a farm hand when he could find no other work. Accepted, he fit in with the others. Given a second or third chance by a man who could see through and find the good. Now the "New Outsider" uses his moniker as his calling card at wrestling every Thursday night in Ocseola, Arkansas.
Sam
Sam full of life, and full of love. She is loved by her grandparents Ken and Marla.
Aislyn
24 x 30"
Oils on Canvas
$1300
Ethereal, quiet, clear waters. Aislyn is 12 here. She resembles her dad, Grant. And she reminds me of her mom. Between the two of her parents she has cultivated the best that each has to offer and become someone without limitations. Here she poses for her portrait while on a trip to Germany. The lighting is what inspired me to ask permission to paint this portrait.
Conversation
Watercolors on D'Arches CP
28 x 36"
Johnathan died at his desk from a heart attack. He had taken Lane, the boy in the painting, under his wing as his own. Lane was his nephew. He and Lane laughed, swam, played at all things boring. Johnathan helped Lane grow until he didn't.
Arturo
Oils on Canvas
24 x 24"
$1000
Rarely did I see Arturo without a smile. Or walking, he always ran everywhere, I think it was because he was vertically challenged. He took care of the property where I boarded my horses. Arturo felt personally responsible for the care and well being of not only the horses but the boarders were in his embrace as well. Such a quality human and what an energy! Thanks Arturo.
Ray
Oils on Canvas
24 x 24"
$1000
A friend of mine whose words hold weight, told me that she thought this was the best painting I have ever done. I was humbled. As intense as this image is, Ray surpasses that in real life. Though kind and jolly on the spot, don't mess with Ray. That is why he is the foreman of the Forgotten. He too has a story but I suppose it will always lie behind those eyes.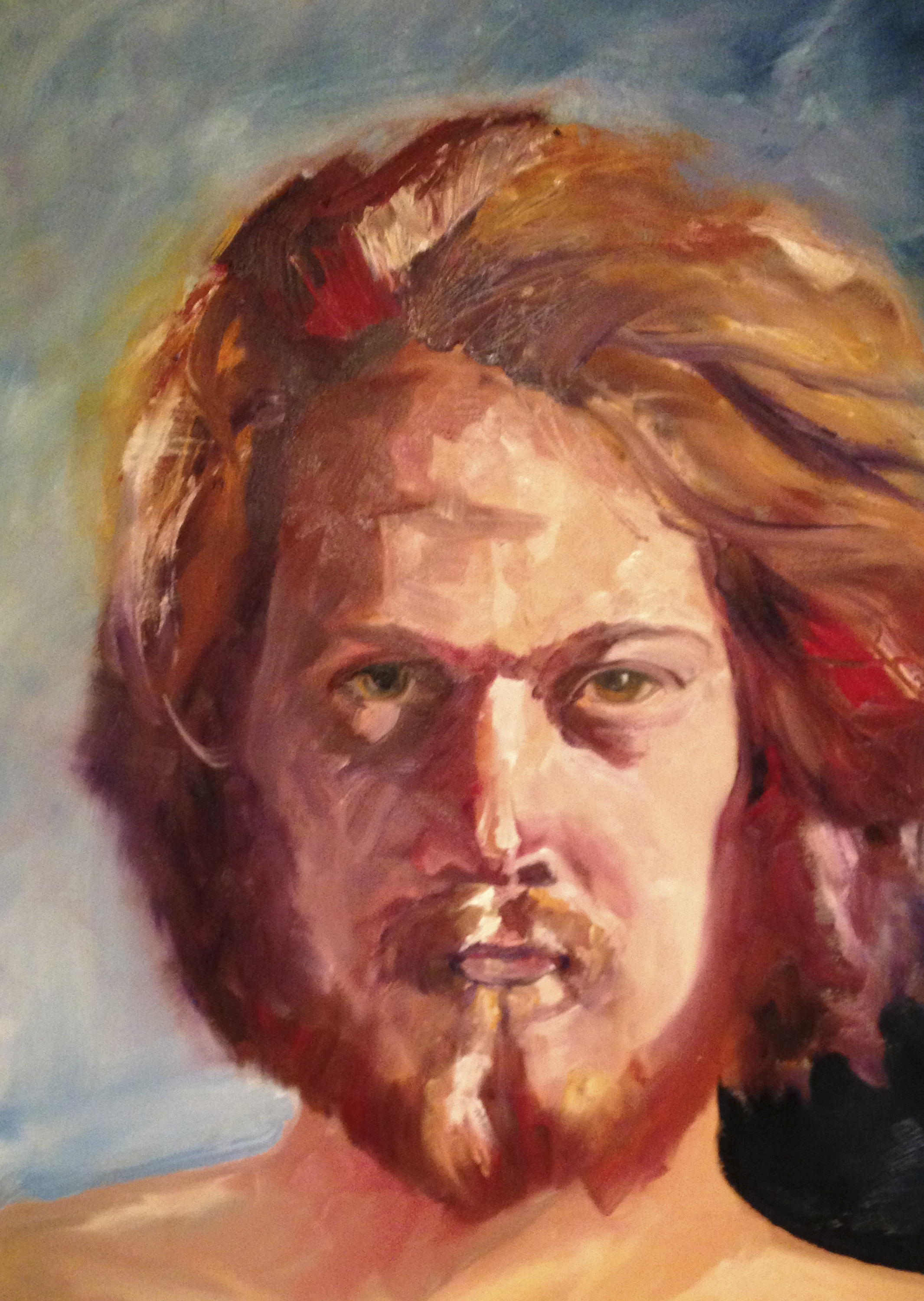 Chris
Oils on Canvas
20 x 30"
Nose ring, tats on forearms, sweating profusely as he loaded grain into the bed of my truck. His red hair wild half clinging to his face and exploding with color as light steaked through the red mass. I had to ask for his photo and he looked at me as if I were alien. "No, really, I just want to paint your portrait, would you consider sitting for a painting. I will pay you." He did sit for me and I painted this portrait. I love the way it turned out. As did he. I showed it to him when it was done. He wanted to buy it but couldn't afford the gas to get to my studio and I said that if that were the case he could not afford to buy it. I put it against the wall to dry in hopes of entering it into a showing. I was out of town for a couple of days. When I got back the painting was gone. And Chris was too.
Micayla
Watercolors on D'Arches CP
48 x 30"
Micayla at 6. As cute as she is here is as beautiful she is at 12. The pink feather boa should have told me that this girl would not be taken with the horse industry as I was. The other day she saw a fly and literally screamed in horror, really. Quiet, mostly, she conducts herself in dual realities. One where she manages on a routine basis, the other is so elusive that I treasure her reverie as her mind wanders in and out from presence to ponder. Wicked smart and stunningly beautiful. I love my granddaughters. They call me GrandBob.
- Collection the Crane Family
Floyd
Oils on canvas
24 x 24"
$1000
"I don't like my eyes, I want to leave my glasses on." I had seen his eyes and that is what drew me to want to paint his image. Floyd is unassuming, quiet, waiting, and on point. The new man on the crew, he was proving his worth. What I like about his expression is his mouth gives away what his eyes cannot. Disdain.
Piper
Watercolors on D'Arches CP
30 x 40"
Evidently the sand was hot and Dad's flip flops wouldn't stay on. That is a definite situation
that calls for drastic measures. The child has a set of lungs that rival any opera diva!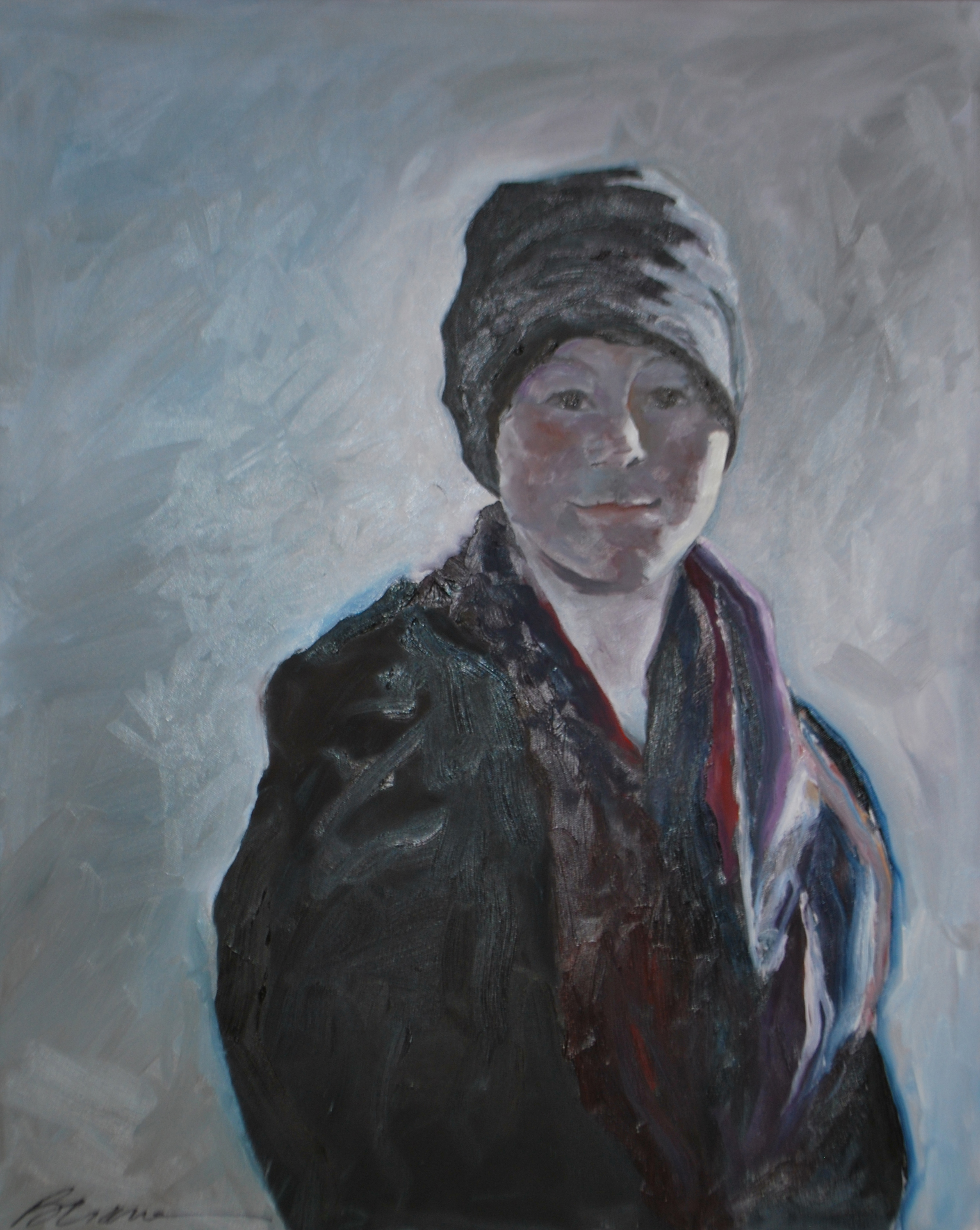 Wool Cap
Aislyn in Germany. The lighting was indirect and cast through heavy glass. She is as mysterious as the lighting
Ferrari
This is Ferrari. He is owned and loved by Susan. I did this painting for an auction to help handicapped children in horse therapy. I put it in portraiture because it depicts Ferrari.
Rage
When I discovered this free form of self expression I was able to use it in a very cathartic manner. I had a very emotional exchange with a friend and was left with a lot of unresolved emotions. The next day I set out my supplies and went to town throwing paint, pigments, pushing media with a brush, splashing the area with water and yelling everything I wasn't able to say during the heated debate. Once done being histrionic I left the piece to dry. I didn't look at it for about 2 days. When I set it up I was a bit freaked out. There in front of me was the profile of a man standing, screaming. Whoa!
Portraits